Welcome to the War of Nations Wiki The official unofficial wiki for War of Nations
Welcome to the
War of Nations Wiki
the officially unofficial resource on information about War of Nations.
Description
Battle against thousands of players in this epic strategy MMO! Conquer other players, take over the world and become the most dominant nation!
Construct bases, train military units, and deploy armies across a gigantic world in this strategy MMO. Engage in epic PvP with other players and capture their bases. Fight over valuable resources, form alliances, and coordinate attacks with other players.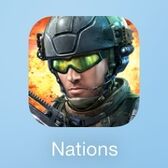 ---
For a list of recent changes click here.
Help Us Out
War of nations wiki is lacking sufficient information and any accurate information related to the war of nations game is needed. Pages such as units, structures, resources, experimental upgrades, normal upgrades and worlds must be completed.
List of Contributors
If you have concerns or want to report a user causing vandalism than please contact one of these users below.
On The Wiki
A little summary of what is on this wiki.
Gameplay
Outposts
Resources

Special Resources

Buildings

Troops
Worlds
WoN is divided into many worlds so that each alliance can get a fresh start and try to take rank and power.
If you wish to add more the the home page edit it here we would love to have an improved wiki!